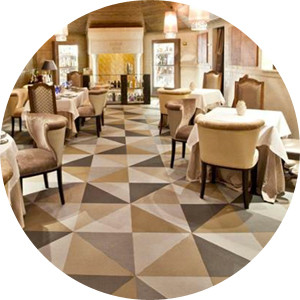 One of the most important aspects of a business' design is related to the type of materials used in the process of creating a simple, still unique interior look. In order to obtain a satisfying result, the people who work in this domain, such as architects and interior designers, have the responsibility of planning the entire design by choosing the options which fit perfectly within the space provided.
It is true that choosing the paint colors for your application has an enormous impact on the final design, but besides that, there is another aspect that is the foundation of the design (Pun intended). This is the floor covering  aspect.
Commercial Hard Surface Services
The floor coverings on the market come in various types and styles, therefore choosing between these solutions might be difficult and time-consuming unless you already know what you want. In case you find yourself in the situation of not knowing which type of floor you should opt for, our company offers you guidance by providing a series of solutions created specifically for your different needs and applications. We have put together a formula for picking the right product every time. If you reserve a free consultation we will provide a download of ou guide that is guaranteed to help you pick the right floor covering for your project. Our goal is to help you at every step of the way and ensure that you recommend us to your friends. Word of mouth is the best for of marketing for us, so please, pick a product, pick a cause, and let us provide all the support necessary. We look forward to doing great things together.
Engineered Wood and Bamboo Floors
The first floor covering product that many people choose from the commercial flooring solutions that Surfaces Central offers is engineered wood for various reasons. First of all, an engineered wood floor presents a high level of resistance towards traffic and other negative factors, which might affect the original state of your typical floor covering like VCT. Secondly, the cleaning and maintenance of wood is an easy and practical activity, which can be done by using the adequate cleaning solutions which you may find in supermarkets.
Broadloom Carpet and Carpet Tiles
Another type of commercial hard surface that Surfaces Central provides is carpet. Carpet is considered a cheap alternative to other types of floors, but the high quality of our carpet might make you reconsider the idea of selecting carpet for your space.
Sheet Vinyl, Luxury Vinyl Tile (LVT), and Rubber Floors
Between the commercial flooring options available, you might find that sheet vinyl, LVT or rubber could be the perfect fit. Depending on the type of the room you're considering to decorate, we carry complementary products so that you can mix and match to get your desired aesthetics.
Customer Service You Can Count On
If you don't have any idea for what type of commercial flooring options to choose, then you should consider requesting a consultation and we will help you find the perfect solution for you and your business. Your personal floor covering advisor will schedule a time that is right for you and bring our showroom to your location. We will listen to your needs and recommend only the most trusted products on the market. Once you know which type of product is right for you, we will guide you through all the different aesthetic options and print films available (there are a lot to choose from). If you have a budget in mind, this is where we help you strategize in order to meet that budget. Do you have a deadline as well? No worries, we will rush deliver and schedule installation as soon as humanly possible.
For further information regarding the prices of the products we sell as well as the delivery and payments methods, we invite you to contact us directly. Someone from the company will answer your questions you have, so feel free to ask anything you want to know in reference to commercial hard surfaces. More so, if you have any doubts towards the quality of our products, our company offers sample requests and mock-ups delivered to your desired location.
Our Commitment to You
That being said, Our company wants what is best for you. We want you to be under budget, meeting deadlines, and fully satisfied with our products. Let us know if there is anything we can do to help.
Columbus, Cincinnati, Cleveland, Dayton
Louisville, Lexington
Indianapolis, Fort Wayne, South Bend
Tile
Laminate
Engineered Hardwood
Carpet
Bamboo Wood Flooring
Rubber